Development of photocatalysts for energy conversion
Water splitting on photocatalysts



| | |
| --- | --- |
| Get hydrogen energy from water using the sunlight | |

 
  This project is runnning to develop photocatalysts which are able to decompose water into hydrogen and oxygen by sunlight.
  Recently, our world is faced with many different problems in global level including environmental pollution or lack of energy. If we can obtain the method to produce hydrogen, promising clean energy carrier, from water by harvesting sunlight, it could be a key to solve these problems by the root.

  Toward achieving this ultimate goal, our current attractive challenge is to find out novel photocatalysts that effectively work on water splitting under visible light (400 to 800 nm wavelength).
  During more than 20 years, many researchers have tackled to reach the goal. Professor Domen has been studying the photocatalysts for overall water splitting from 1979.
  In his research, NiO supported SrTiO3 photocatalysts showed a successive decompostion of water (vapor) into hydrogen and oxygen (reference 1-3).
  Subsequently, he found out the photocatalysts based on ion-exchageable layered oxides showed higher efficiency for water splitting (ex. K4Nb6O17, K2La2Ti3O10: reference 4-6). Unfortunately, however, these photocatalysts based on transition metal oxides have the ability to absorb only the ultraviolet light (shorter than 400 nm wavelength). As shown in the figure, the main region of sunlight is distributed from visible to infrared while little portion comes under ultraviolet. For practical use of sunlight, we have to apply in visible light (400 to 800 nm wavelength).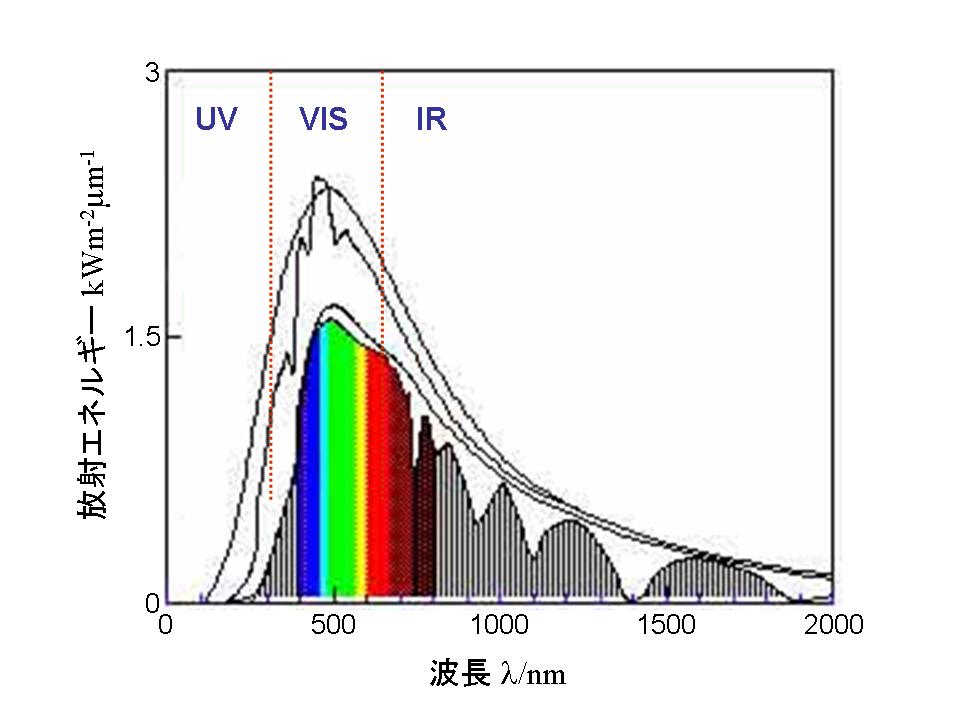 Visible light-driven photocatalysts:
Oxynitride and oxysulfide

 For last 5 years, we have studied new materials, which contain nitrogen or sulfur as a 'composition elements'. These materials are different from nitrogen or sulfur doping on the surface of oxide materials. Consequently, we have successfully prepared nitrides, oxynitrides, and oxysulfides, which contain transition metal ions (Ta5+, Ti4+, etc) with d0 type electron configuration (reference 7-24). For example, we synthesized Ta3N5, TaON, LaTiO2N and Sm2Ti2S2O5, etc.
  These materials showed photocatalytic activities to produce hydrogen and oxygen under visible light irradiation, which were tested under sacrificial reagents (oxidizers or reducers). Up to this time, only unsuccessful results were obtained from these d0 type oxynitrides and oxysulfides to decompose pure water into hydrogen and oxygen. We speculate that the reason comes from lattice defects and ineffective contact to hydrogen and oxygen produsing sites. Now we are developing novel synthetic and modifying methods.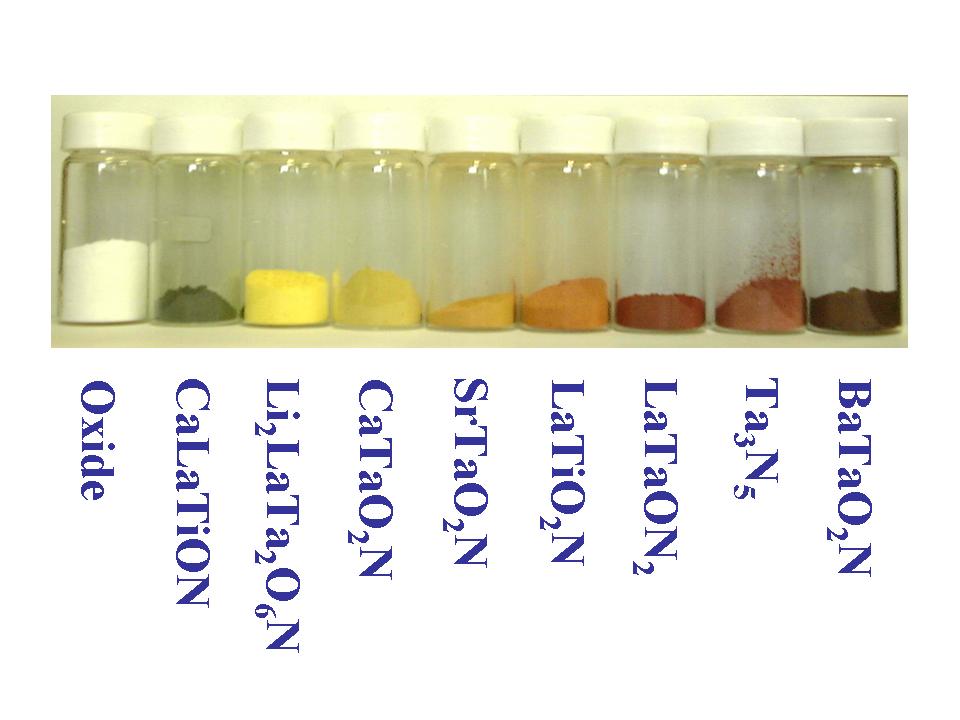 | | |
| --- | --- |
| d10 type non-oxide photocatalysts | |
  Professore Inoue and hish group have found out mixed oxides containing transition metal ions with d10 electron configuration effectively employed as the water splitting photocatalysts. (Inoue groups website)
  And we collaborate with Inoue group to develop nitrides and oxysulfides containing d10 type transition metal ions. In detail, the materials contain Ge4+ or Ga3+. The result showed successful water splitting with ß-Ge3N4 photocatalysts (reference 25). This is first report that accomplished overall water splitting by non-oxide photocatalysts. However, as the band gap energy of ß-Ge3N4 is corresponding to ultraviolet region, water spliggint under visible light could not be achieved with this photocatalyst.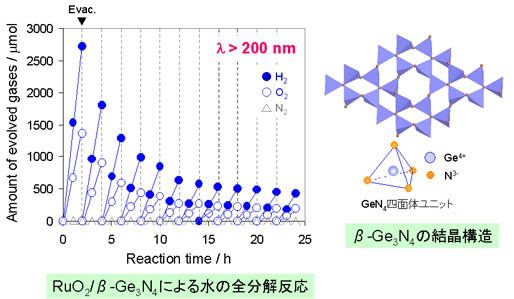 Successful water splitting under visible light
(Ga1-xZnx)(N1-xOx)、(Zn1+xGe)(OxN2)
  Galliun nitride (GaN) and zinc oxide (ZnO) have the same crystal structure (Wurtzite structure) and are promising materials for optical devides such as emission diodes and laser diodes.
  Although neither GaN nor ZnO is able to absorb visible light itself due to its larger band gap, we firstly made out that (Ga1-xZnx)(N1-xOx), solid solution of GaN and ZnO, can absorb the visible light (about 500 nm region) and decompose water into hydrogen and oxygen in stable. Recently we achieved about 3% of quantum efficinecy. (Zn1+xGe)(OxN2) is also able to decompose water under visible light irradiation.


  We are now striving to improve these functional materials and also to develop novel photocatalysts that absorb longer wavelength showing higher efficiency.
References

(1)  K. Domen, S. Naito, M. Soma, T. Onishi and K. Tamaru
  " Photocatalytic decomposition of water vapour on an NiO-SrTiO3 catalyst."
   J. Chem. Soc.: Chem. Commun., 1980, 12, 543-544.
(2)  K. Domen, S. Naito, T. Onishi, K. Tamaru and M. Soma
   "Study of the photocatalytic decomposition of water vapor over a NiO-SrTiO3 catalyst."
   J. Phys. Chem., 1982, 86 (18), 3657-3661.
(3)  K. Domen, A. Kudo and T. Onishi
   "Mechanism of photocatalytic decomposition of water into H2 and O2 over NiO-SrTiO3."
   J. Catal., 1986, 102 (1), 92-98.
(4)  A. Kudo, A. Tanaka, K. Domen, K. Maruya, K. Aika and T. Onishi
   "Photocatalytic decomposition of water over NiO-K4Nb6O17 catalyst."
   J. Catal., 1988, 111, 67-76.
(5)  T. Takata, K. Shinohara, A. Tanaka, M. Hara, J. N. Kondo and K. Domen
   "A Highly Active Photocatalyst for Overall Water Splitting with a Hydrated Layered Perovskite Structure."
   J. Photochem. Photobiol. A: Chemistry, 1997, 106, 45-49.
(6)   T. Takata, Y. Furumi, K. Shinohara, A. Tanaka, M. Hara, J. N. Kondo and K. Domen
   "Photocatalytic decomposition of water on spontaneously hydrated layered perovskites."
   Chem. Mater., 1997, 9 (5), 1063-1064.
(7)  A. Ishikawa, T. Takata, J. N. Kondo, M. Hara, H. Kobayashi and K. Domen
   "Oxysulfide Sm2Ti2S2O5 as a Stable Photocatalyst for Water Oxidation and Reduction under Visible Light Irradiation(λ<650nm)."
   J. Am. Chem. Soc., 2002, 124 (45), 13547-13553.
(8)  A. Kasahara, K. Nukumizu, G. Hitoki, T. Takata, J. N. Kondo, M. Hara, H. Kobayashi and K. Domen
   "Photoreactions on LaTiO2N under Visible Light Irradiation."
   J. Phys. Chem. A, 2002, 106 (29), 6750-6753.
(9)  G. Hitoki, T. Takata, J. N. Kondo, M. Hara, H. Kobayashi and K. Domen
   "An oxynitride, TaON, as an efficient water oxidation photocatalyst under visible light irradiation (λ<500nm)."
   Chem. Commun., 2002, (16), 1698-1699.
(10) G. Hitoki, T. Takata, J. N. Kondo, M. Hara, H. Kobayashi and K. Domen
   "An oxynitride, TaON, as an efficient water oxidation photocatalyst under visible light irradiation (λ<500nm)."
   Chem. Commun., 2002, (16), 1698-1699.
(11) G. Hitoki, T. Takata, J. N. Kondo, M. Hara, H. Kobayashi and K. Domen
   "(Oxy)nitrides as New Photocatalysts for Water Splitting under Visible Light Irradiation."
   Electrochem., 2002, 70 (6), 463-465.
(12) G. Hitoki, A. Ishikawa, T. Takata, J. N. Kondo, M. Hara and K. Domen
   "Ta3N5 as a Novel Visible Light-Driven Photocatalyst (λ<600nm)."
   Chem. Lett., 2002, (7), 736-737.
(13) A. Kasahara, K. Nukumizu, T. Takata, J. N. Kondo, M. Hara, H. Kobayashi and K. Domen
   "LaTiO2N as a Visible-Light (<600nm)-Driven Photocatalyst (2)."
   J. Phys. Chem. B, 2003, 107 (3), 791-797.
(14) K. Nukumizu, J. Nunoshige, T. Takata, J. N. Kondo, M. Hara, H. Kobayashi and K. Domen
   "TiNxOyFz as a stable photocatalyst for water oxidation in visible light(λ<570nm)."
   Chem. Lett., 2003, 32 (2), 196-197.
(15) M. Hara, G. Hitoki, T. Takata, J. N. Kondo, H. Kobayashi and K. Domen
   "TaON and Ta3N5 as new visible light driven photocatalysts."
   Catal. Today., 2003, 78 (1-4), 555-560.
(16) W. J. Chun, A. Ishikawa, H. Fujisawa, T. Takata, J. N. Kondo, M. Hara, M. Kawai, Y. Matsumoto and K. Domen
   "Conduction and valence band positions of Ta2O5, TaON, and Ta3N5 by UPS and electrochemical methods."
   J. Phys. Chem. B., 2003, 107 (8), 1798-1803.
(17) A. Ishikawa, Y. Yamada, T. Takata, J. N. Kondo, M. Hara, H. Kobayashi and K. Domen
   "Novel synthesis and photocatalytic activity of oxysulfide Sm2Ti2S2O5."
   Chem. Mater., 2003, 15, 4442-4446
(18) M. Hara, J. Nunoshige, T. Takata, J. N.Kondo, K. Domen,
   "Unusual enhancement of H2 evolution by Ru on TaON photocatalyst under visible light irradiation."
   Chem. Commun., 2003, 3000-3001.
(19) M. Hara, E. Chiba, A.Ishikawa, T. Takata, J.N. Kondo, K. Domen,
   "Ta3N5 and TaON thin films on Ta foil: surface composition and stability."
   J. Phys. Chem. B, 2003, 107(48), 13441-13445.
(20) A. Ishikawa, Y. Yamada, T. Takata, J. N. Kondo, M. Hara, H. Kobayashi, K. Domen,
   "Novel synthesis and photocatalytic activity of oxysulfide Sm2Ti2S2O5."
   Chem. Mater., 2003, 15(23), 4442-4446.
(21) D. Lu, G. Hitoki, E. Katou, J. N, Kondo, M. Hara, K. Domen.
   "Porous single-crystalline TaON and Ta3N5 particles."
   Chem. Mater., 2004, 16(9): 1603-1605
(22) A. Ishikawa, T. Takata, J. N. Kondo, M. Hara, H. Kobayashi, K. Domen,
   "Oxysulfides LnTi2S2O5 as stable photocatalysts for water oxidation and reduction under visible-light irradiation."
   J. Phys. Chem. B, 2004, 108, 2637-2642.
(23) M. Hara, T. Takata, J, N, Kondo, K. Domen,
   "Photocatalytic reduction of water by TaON under visible light irradiation."
   Catal. Today, 2004, 90, 313-317.
(24) A. Ishikawa, T. Takata, J. N. Kondo, M. Hara, K. Domen,
   "Electrochemical behavior of thin Ta3N5 semiconductor film "
   J. Phys. Chem. B, 2004, 108, 11409-11053.
(25) J. Sato, N. Saito, Y. Yamada, K. Maeda, T. Takata, J. N. Kondo, M. Hara, H. Kobayashi, K. Domen, Y. Inoue
   "RuO2-loaded ß-Ge3N4 as a non-oxide photocatalyst for overall water splitting"
   J. Am. Chem. Soc., 2005, 127, 4150-4151
(26) K. Maeda, T. Takata, M. Hara, N. Saito, Y. Inoue, H. Kobayashi, K. Domen
   "GaN:ZnO Solid Solution as a Photocatalyst for Visible-Light-Drigen Overall Water Splitting"
   J. Am. Chem. Soc., 2005, 127,8286-8287

---